LGBT Weddings at Scatterridge
Our unique, rustic and secluded Scatterridge Lodge is nestled at the edge of the Great Smoky Mountains and is available to serve the needs of the LGBT community.
Let us help you create a wedding as unforgettable as your love.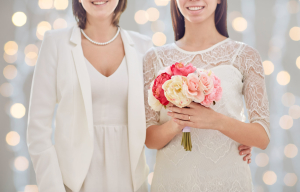 Scatterridge Lodge believes strongly in celebrating diversity so we are pleased to offer our wedding facilities for your same-sex ceremony. We want your special day to be filled with the love and happiness that defines you and your spouse-to-be as a couple.

We have ample space for your sit-down reception dinner and party dancing, so you can cut a rug… after you cut the cake.

Whether you want an outdoor courtyard gathering or an indoor wedding we can help you create a wonderful, lasting, romantic memory with the majestic Smoky Mountains as your backdrop. Scatterridge – a gay friendly wedding venue – is here to help you plan your wedding event so you can publicly express and share your love.

Gatlinburg, Tennessee makes a wonderful wedding and honeymoon destination. It is known worldwide for it's excellent restaurants, major attractions and lavish, green majestic mountains. There are romantic mountain cabins and resort spas with just the right amenities to help you relax, enjoy and be pampered.
Your Wedding Day… Your Way.
What is your Dream Wedding? Together we can make it come true!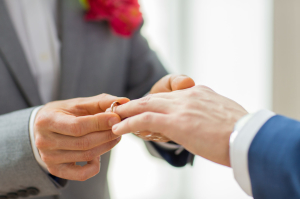 Scatteridge is a gay friendly wedding venue that makes it easy for you to select exactly what they want!

PS We will be your special consultant and advise you on all special services needed such as flowers, cakes, musicians, reception foods, champagne, and more!

Treat yourself to a beautiful wedding at Scatterridge Lodge … the perfect Smoky Mountain setting. At Scatterridge you can get married indoors in our unique historic lodge, or outdoors in a luxurious garden setting, by a waterfall, or on the river. The choices are endless and packages are affordable! Scatterridge makes it easy for brides to select exactly what they want, including minister, hors doeuvres, full catering, bouquet and boutonniere, wedding cake, photo package, live music or dj, and bar service.

We also have access to some of the most beautiful luxury cabins in the area. These cabins will accommodate up to 40 guests and are equipped with all the best. Our staff can provide a "pre-wedding dinner" or bring everything to you for your wedding and reception including the minister, florist, chef. Click here to get more info!
Consider Scatterridge for your gay and lesbian weddings in Gatlinburg, TN.